A wedding is a ceremony where people come together to celebrate love and unity between lovers.
For the couples, it's one of the most exciting memories they'll ever have.
Since weddings are memorable and delightful, couples want them to be as glamorous as possible. That's why they spend so much time picking a wedding theme.
Wedding themes are essential as they set the tone for the ceremony. With the wedding theme, couples can express themselves and show their preference. It guides you in planning out the rest of the wedding.
Like most wedding themes, denim and diamonds are a great fit. While denim represents casual, fun, and stylish, diamond shows sophistication, glamour, and class.
Here are ways you can integrate denim and diamond into your wedding theme.
Top 8 Wedding Theme Ideas With Denim And Diamonds
Overview:
Begin With Your Invitation
Include Your Wedding Jewelry and Accessories
The Wedding Outfit
Denim and Diamonds for an Outdoor Wedding
Wedding Ceiling Decoration – Let it Rain Denim and Diamonds
Denim and Diamond Cake
Not the Regular Bouquet
Denim and Diamonds Themed Hall Decor
1. Begin With Your Invitation
The first way to tell your guests about the theme of your wedding is through the invitation. Your invitation design should get your invitees excited about the wedding.
Invitations indicate the date, time, and venue. Your invitation should not only state the colors of the day. It should be designed with the theme as well.
For a start, the envelope of your invitation could be designed to look like a denim pocket with a diamond button. The main invitation should have a denim background, and the prints should be in sparkly white (which will represent the diamonds).
Also, you could add pictures of diamond wedding rings to the design. There are tons of denim and diamond-themed invitation cards on the internet. You and your graphic designer can check them out and come up with something creative.
2. Include Your Wedding Jewelry and Accessories
Denim and diamond-inspired wedding jewelry can also be part of the theme. The bride should wear diamond accessories like diamond earrings, a necklace, and a diamond tennis bracelet.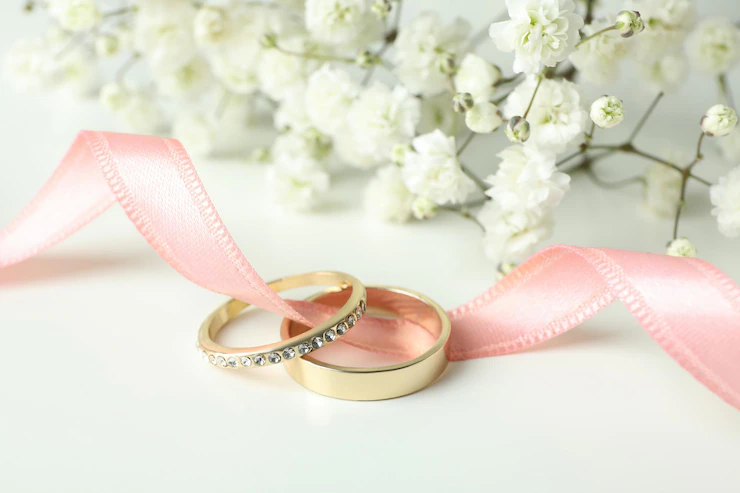 Also, since the denim material won't pass for a wedding ring, the bride can wear a blue diamond wedding ring instead. Although most diamonds are white, you can get colored lab-grown diamonds. In addition, get your hair decorated with diamond accessories like a diamond hair brooch, pins, and clips.
While the groom's shoe can be black or denim, the bride's shoe should be glittering. It should literally shine bright like a diamond. A stiletto heel with diamond glitters is the kind of shoe you want on your feet for the big day.
For the wedding ring pillow, a denim pillow should do. The pillow can have a shiny white bowtie on one end.
3. The Wedding Outfit
Although you can wear the traditional white dress for a wedding, some ladies may want to do something different. You can opt for a wedding dress made of both denim and white lace, or you can wear a complete denim dress.
Also, your bridal train can wear matching outfits with diamond earrings and tennis bracelets. For the groom's men, a pair of denim trousers and white blazers can represent the theme.
4. Denim and Diamonds for an Outdoor Wedding
Weddings are not made for indoors only. There have been many outdoor weddings that were cool and successful.
You can have outdoor denim and a diamond-themed wedding. However, you have to watch the weather and make sure it is clear.
For your outdoor denim and diamond-themed wedding, you can get denim flowers for the aisles. The flowers should all have little fancy diamond cuts. Obviously, these won't be actual diamonds. You should use sparkly glasses or white shimmers
Also, you can add blue and sparkly balloons to the arena. The wedding arch can be decorated with denim drapes and roses for an extra pop.
5. Wedding Ceiling Decoration – Let it Rain Denim and Diamonds
A wedding hall with ceiling decoration has become a trend within the past few years. For your denim and diamond theme, you can decorate just the chandeliers or the whole ceiling.
Diamond drapes can hang down from the ceiling and create fine patterns of shiny raindrops. For this look, denim can be replaced with blue light drapes.
So you can have white and blue light drapes hanging on the entire ceiling. In order to pull this off, you'll require creativity and the services of professionals.
6. Denim and Diamond Cake
What is a wedding without a cake? Although cakes are edible, they are still one of the most important decorations for the wedding venue.
A denim and diamond cake can be a blue cake shaped and designed like a big diamond cut. But wedding cakes with steps are grander.
Instead, the cake can be a multi-step cake decorated with edible diamond shimmers and a big diamond wedding band on top.
7. Not the Regular Bouquet
How about replacing real flowers with denim flowers? Cool right? You can have a bouquet made of denim flowers and diamonds.
You can turn denim into any flower shape or petal you want. There are easy DIY videos and pictures that will show you how to get it done.
The denim and diamond bouquet can be made for both the bride and the little bride.
8. Denim and Diamonds Themed Hall Decor
To get your wedding hall to be all denim and diamonds means that you will put a touch of denim and diamonds in everything. For a start, the table cloth on each should be a combination of denim and diamond.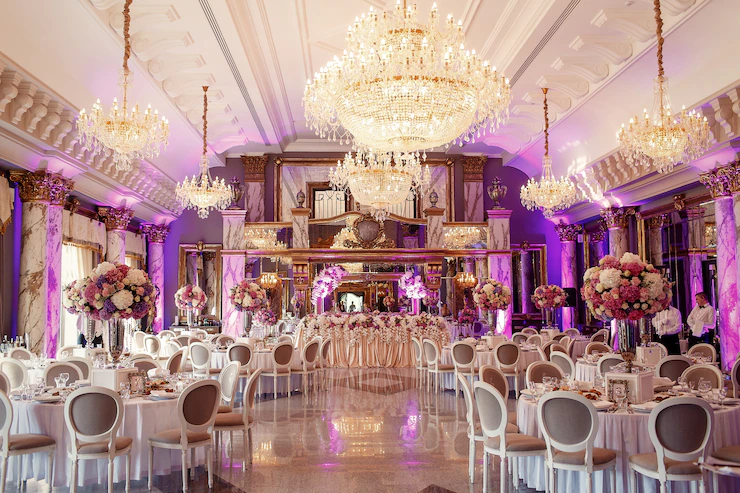 Each table can have a denim food menu design and a diamond flower vase. Also, the table designs should all be uniform. You can as well use denim napkins to place the cutlery set.
Conclusion
Wedding themes are a vital part of wedding planning. They have so many advantages, and they give character to the wedding setting and ceremony. There are dozens of wedding theme colors and concepts. Denim and diamonds are one of those spectacular wedding themes. The combination of both denim and diamond is so fascinating.
You can choose to apply the theme for everything or just for specific areas. If you are thinking of a wedding theme or know someone who is, you could suggest this. With these ideas, you can create the perfect wedding party.
Additionals: