Do you want to keep long hair? Are you looking for some new ideas for the trendiest long hairstyles for men that you hope your barber knows about?
Interestingly, you don't need your barber here. After all, you don't need to cut your hair and keep it shorter. You just need to grow it longer and get your style i9n shape using the right hair products.
Therefore, start reading this list as I handpick the top 10 long hairstyles for men that you can sport yourself right now in 2022.
Best Long Hairstyles For Men In 2022
The best hairstyles for men with long hair in 2022 that you can try out are:
1. Ponytail
If you want to get one of the sexiest long hairstyles for men in 2022, then get yourself a ponytail. This hairstyle will look great on men with a more masculine facial structure with sharper cheekbones and jawlines.
If you want to have a more disheveled appearance, then you cannot go wrong with having a ponytail. It's best to ie your hair twice or thrice to get the ponytail right.
2. Man Bun
The classic man bun was all the rage in the first half of the second decade of the 21st century. This style gained a lot of prominence and notoriety as many celebrities started sporting man buns. This long hairstyle for men is pretty similar to ponytails. However, instead of your long hair hanging down in a ponytail, it is bunned up on top and behind your head.
3. Textured Waves
You might want to sport long hairstyles for men that are a bit complex and with lots of textured layers. If you want a hairstyle that matches this description, then have a look at Harry Styles while he was still in One Direction. He perfected this hairstyle, which is smoother and silkier on the top with wavier curls as your hair falls downwards. Use hairspray for the best results.
4. The Witcher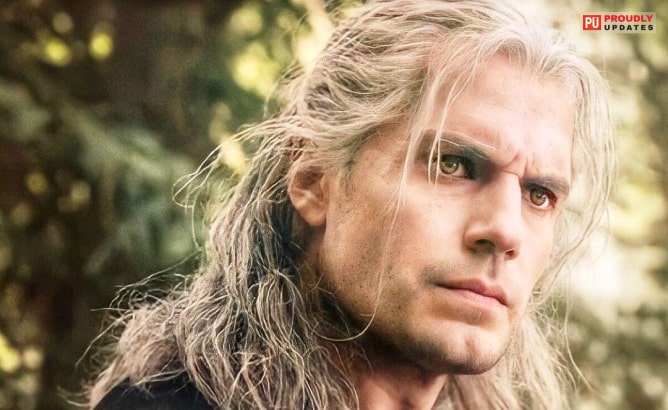 Many men have sunk hours into playing games like the Witcher 3. However, most have seen the Netflix adaptation of this game, where Henry Cavill plays the titular Witcher – Geralt of Rivia.
Here, Henry Cavill sports the half-up and half-down hairstyle of the Witcher. All you need to do is tie a knot or a ponytail around your hair at the back. Make this ponytail from the top half of your hair. On the bottom half, just let it flow down naturally. If you are into cosplaying, then you can dye your hair silver to become the white wolf himself.
5. The Undercut
The Undercut is one of the most popular hairstyles to emerge in the 21st century. However this hairstyle has been popular amongst men who want shorter hairstyles. However, do want to look user cool with an urban fashion style? If so, then keep your hair long along with including an undercut on the sides to up your attitude.
An undercut basically means shortening your hair on the sides. Therefore, ask your barber to simply cut the hair on your sides as short as possible. To get the best long hairstyles for men, do the undercut on just one side of your head, preferably on the suite of your scalp (typically on your left).
6. Slicked Back
If you want a corporate and classy look that still looks pretty fresh and urban, then simply slick back your long hair. One of the more suave long hairstyles for men, you need a few hair products to get this hairstyle. This is one of the best medium long hairstyles for men.
First and foremost, grow your hair out. Then, when it reaches around shoulder length, use some hair gel or pomade to give your hairstyle a wet look. After applying pomade, simply slick back your hair with a comb. Now go out and wear sunglasses for the best look.
7. Curly
Sometimes, having curlier hair can be great for men. It makes them look different from most and also have an aura of playful confidence around them. However, growing them long can make you look even more macho and handsome in the eyes of the other gender.
However, its important to note that you need to maintain this curly hairstyle a lot. This is because you need to maintain your curly and frizzy hair with products to make them sleeker, yet keeping them curly.
8. Straightened
If you want your long hairstyles for men to be lush and smoother and even make some women jealous, then straightening your hair can be a great idea. Men with straight locks have a certain charm to them that some women wasn't seem to resist. If you want to be a bit daring to woo the women of your dreams, then straighten your long hair and get your confidence and boldness through the roof. This is s perfect choice if you are looking for Asian men hairstyles.
9. Dreadlocks
If you want to look a bit bold and furious, then getting dreadlocks will be a great choice of you can pull it off. One of the more traditional long hairstyles for men from African American origins, this hairstyle can take a lot of work since it requires a high level of maintenance. If you do manage to pull it off these braided hairstyles for men, then you will get a bold and unique look that is sure to turn eyes towards you wherever you go.
10. The Shag
If you are interested in one of the most retro hairstyles for long hair men, then get your Shag on. Popularized by rock bands and psychodelics hippies back in the 60s and the 70s, this hairstyle is a classic, especially when Rockstar's like Jimi Hendrix and Jimmy Page sported. Just get your curls right and grow them out from the sides. For the most "shag" effect, get a handlebar moustache and sport big, colorful sunglasses.
FAQ (Frequently Asked Questions):
Q1. Is Long hair Good For Men?
Ans: Yes, long hairstyles for men look good because it makes a man appear more masculine and handsome. If you thought only women looked good with long hairstyles, then think again since men can look equally as good too. 
Q2. Does Long Hair On Men Look Unprofessional?
Ans: No, long hairstyles for men do not make a man look unprofessional. Men with long hairstyles look great since they represent masculinity. However, most corporate sectors do not prefer their male employees to have long hairstyles. This is the prime reason most people say that men with long hairstyles look unprofessional. 
Q3. Why Is Long hair Attractive?
Ans: Long hairstyles for men look attractive because it makes a man look different from the rest. When you walk through the streets, you will see 99% of men having short hairstyles. However, your attention will automatically go toward the man with a long hairstyle.
Q4. Does Long Hair Cause Hair Loss In Men?
Ans: It is a myth that men with long hair lose their hair and become bald quickly. This has been scientifically unproven so far. Hair loss is linked to genetics and an improper lifestyle and self-care.
Long And Strong Till The End
Long hairstyles for men have been a quintessential requirement for Rockstar's and metalheads since the 1970s. Whether you love to headbang to the fastest and grooviest metal songs, long hair looks sexy and masculine, equally as well as it looks feminine too.
To get a good long hairstyle, you can pick any one of the ten mentioned here on this article. All of these are currently trending and will definitely help you stand out of the crowd.
Read Also: