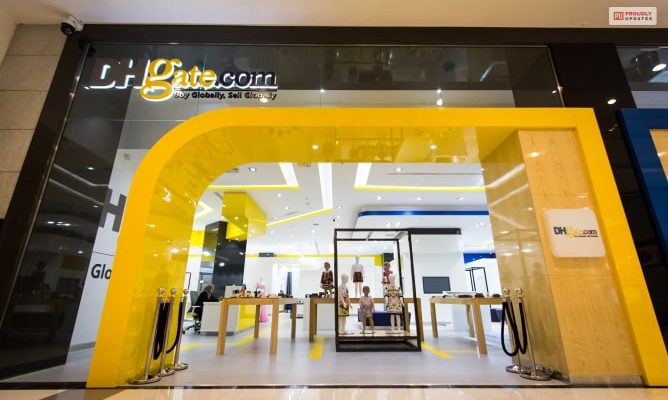 Have you heard about DHgate? If not, then you are in for a treat! And if you are in search of some additional information related to the website, you have reached the right place.
There are a number of ecommerce companies that have taken over the world of online shopping recently. While you might have heard about companies like eBay and AliExpress, not a lot of people have heard about DHgate.
If you are someone who is into online shopping and want to learn about newer sites that are great alternatives to the mainstream shopping website, you will find this article to be of help.
Keep reading this blog till the end to learn more…
DHgate Company Overview
| | |
| --- | --- |
| Name | DHgate |
| Also Known as | 敦煌网, Dūnhuángwǎng, DH Gate, DHgate Online Store |
| Type | Private |
| Founded | 2004 |
| Headquarters | Beijing, China |
| Industry | Cross-border e-commerce |
| Founders | Diane Wang |
| Operating Status | Active |
| Website | dhgate.com/ |
What Is DHgate?
Simplified version of the term Dūnhuángwǎng, DHgate is one of the most popular online ecommerce websites that is based in China. All of us know how the majority of the goods that are used, from electronics to clothes, are made and manufactured in China.
DHgate is a company that aims to bring customers closer to the chinese wholesale market. In this way, customers can get things at a much cheaper rate.
One of the main reasons why the site is getting popular day by day among its followers is because it "provides a buyer protection plan, a secure refund policy, express delivery, and shipment tracking, and is committed to providing a fast, easy, and safe buying experience to businesses and consumers worldwide."
Diane Wang founded the company in the year 2004. Currently, it is one of the largest cross-border e-commerce marketplaces in the world. At present, the site has more than 1 million sellers who supply to the needs of the customers or consumers throughout the world. You might be surprised to know that there are more than 227 countries that purchase their items on DHgate.
What Do You Get At DHgate?
In case you were thinking about what all you can get on the site, I have you covered.
The moment you enter their home page, you will get to see a variety of items displayed there. The categories of the products that they provide to the customers are of the following:
Cell Phones & Accessories
Electronics or Industrial
Sports & Outdoors
Health & Beauty
Shoes & Accessories
Home & Garden
Lighting
Toys & Gifts
Baby & Kids
Apparel
Local Warehouse
Jewelry & Watches
Weddings & Formal Events
Hair & Styling
Computers
Games
Bags
Fashion Accessories
Automobile & Motorcycle
If you want, you can also browse through the products based on categories like:
TOP Ranking
Wholesale Trending
Local Warehouse
Featured Sellers
Worry-Free Shopping
There is yet another section that you can browse for your shopping experience. And this is the You May Like section. This category or browsing section is divided into the following:
Sports and Outdoors
Shoes and accessories
Apparel
Watches
Fashion accessories
Bags and accessories
Jewelry
Home and garden
Health and beauty
Baby, kids, and maternity
Phone accessories
Electronics
Wedding and events
Hair products
Automobiles and motorcycles
Computers and networking
Toys and gifts
Business and industrial
Lights and lighting
Games and accessories
Cameras and photos
Musical instrument
Security and surveillance
Household appliances
Tactical gear.
These are just the few things that you can browse for. However, looking at the list of the categories you might be able to understand that there are varied items. This means that the customers can search for anything and they are to be rest assured that they will find each and every item that they are searching for.
Is DHgate Legit?
Now that you have understood how the site works, you probably have understood that DHgate is a legit site. Similar to DX or DealExtreme, which is based in China aiming to bring Chinese wholesale items to consumers around the world, DHgate ensures that you get the best item at the cheapest price possible.
The consumers can compare the prices of the items that they are planning to buy and then choose the one that they are most comfortable or satisfied with.
You can also get a lot of coupons and offers that lets you save money on the items that you are planning to buy. With world-wode shipping and secure payment methods, DHgate is one of the most popular go to places for online shopping in the world at present.
The best part of this company is the fact that you can also get their app on your mobile phones or smartphone. The DHgate app is available for use in both Google Play Store as well as App Store. This means that users of both Android as well as iOS platforms can use the services of the company.
As of 2020, the platform had nearly 31 million registered consumers or buyers and more than two million sellers from over two hundred countries all over the world. This goes on to prove that DHgate is a legit company or site which is completely safe to use.
DHgate Review: What Users Have To Say About DHgate?
In case you were searching for the reviews of the company or this ecommerce site, i have you covered, here is a review if the sire that are by authentic users who have tried this site fir their online shopping experience:
Wrapping It Up!
In case you were searching for information related to DHgate, I hope that this article has been of help to you. If there are any other queries related to the same, feel free to let me know.
All you need to do is scroll down to the bottom of the page and leave a comment in the box below. And I will be there to clear your doubts and take in your suggestions. Also, do not forget to let me know what other companies you want to get an overview of next!
Have A Look :-