In the present day, you can find a lot of stylish haircuts getting trendy among men and women. Well, all credit for this goes to the modern grooming gadgets. From the top-notch hair designers to simple barbers, all use these gadgets in most countries.
So, people are now quite exposed to the alluring haircuts. Moreover, hairstyling has also turned quite easy. Here, you would know some interesting facts about the male buzz cut. There are a lot of variations that you can make with the buzz cut. Moreover, you would be able to go through the points related to buzz cut maintenance in this article. So, have a look at the following points to know more:
What Is A Buzz Cut?
The buzz cuts for boys is one of the prominent short hairstyles that are currently in trend. In this type of hairstyle, the length of hair remains the same on all sides of the head. The people who choose to keep buzz cut are aware that most of the scalp gets exposed in this type of haircut. 
If you are planning to keep it for a few months now, you can just visit the barber anytime. The barber's experience and aesthetic sense would not matter much in the case of the buzz cut as it is quite simple. However, if you desire to have some unique variations of the buzz cut, an experienced hand would be necessary.
Buzz Cut Styles To Try In 2022
Here are some unique buzz haircut styles that you can keep. Remember that a proper haircut can give rise to a new hairstyle. It is not that all hairstyles would work out in a great way but you can at least try. For now, check out the list given below:
1. Buzz Cut With Fade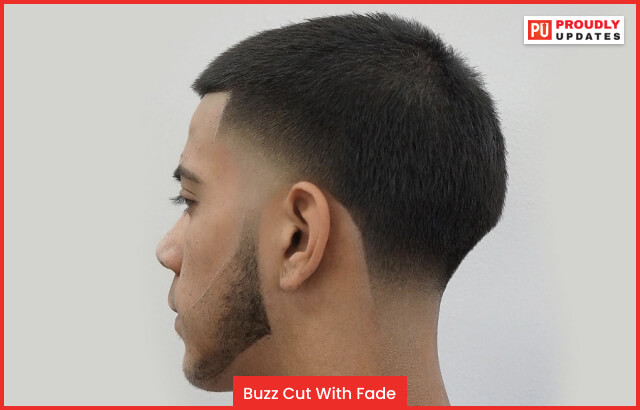 The buzz cut fade is one of the formal haircuts that can result in a simple and sleek hairstyle. Well, you can ask your barber to give the aforesaid cut while keeping some thick hair at the top part of the head.
On the other hand, for the fade, you can either go for a sharp fade or a blunt one. Nevertheless, a blunt fade can never fail to give you an alluring outlook. If you are a fan of the American Army, consider it to be the best hairstyle for you.
2. Buzz Cut With Beard
The buzz cut can also look marvelous if you have a beard. You can just ask the barber to match both of your sideburns with your hair after the cutting is done. For the best outlook, you can keep the length of your hair and beard the same. You can try this cut as it is considered to be a 'great men's haircut'.
3. Dyed Buzz Cut
The dyed buzz cut is trendy among men who look forward to experimenting with their hair and beard. You can consider this as an offbeat haircut but with the right fashion accessories, it can go great.
Asian men are more into dying their buzz-cut hair, so this is also known as the Asian buzz cut popularly. The best you can do is look for an experienced barber and ask him to give you this haircut.
4. The Low Fade Buzz Cut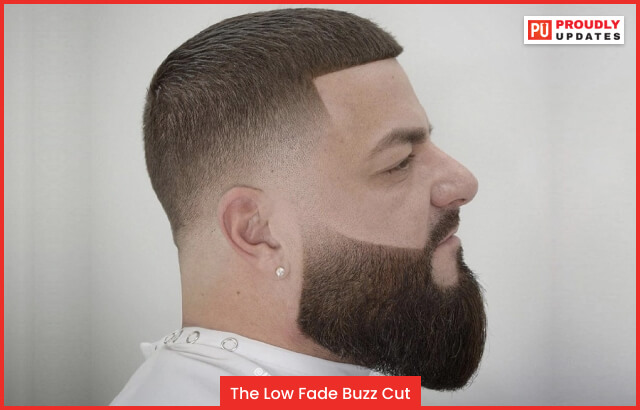 The low fade buzz cut is one of the medium hairstyles where you can apply the buzz at the side parts. The hair at the top part of your head would remain lengthy. The best you can do is get this hair cut from a professional hair designer.
Expect this cut to suit you in case you are into Goth Fashion. The best you can do is look for good catalogs and even find the bleached buzz cut style.
How To Maintain A Buzz Cut?
There are different ways to maintain a buzz cut. You can consider all basic haircare habits to work when keeping your haircut and style intact for several days. Take a look at the following points to understand. 
Apply Shampoo And Other Haircare Products
Most men may think that with short hair with a buzz cut, it would be unnecessary to apply shampoo every day. However, it is a myth. You need to apply a good anti-dandruff shampoo regularly along with all other hair care products.
Remember, to take good care of your short hair as it can grow really fast allowing you to try other hair cuts quickly.
2. Take Good Care Of The Scalp
You need to take good care of the scalp after you have gone through a buzz cut. Make sure you do not expose your scalp to direct sunlight. The best you can do is cover your head when getting out in direct sunlight. 
Sunburn on the scalp can be irritating. Moreover, it can severely damage the hair follicles. As a result, you might experience a lot of hair fall. 
Well, apart from sunburn, you should also save your hair from windburn. Windburn can cause dust to accumulate on your scalp and lead your hair to weak. 
3. Switch To Other Hairstyle
In case you find the buzz haircut to have complicated maintenance norms, you can switch to any other hairstyle. Always remember, keeping medium hair can be the best as its needs low maintenance. On the other hand, both short and medium hair can demand good attention from your end. 
Frequently Asked Questions:-
Q1. Does Buzz Cut Look Good On Guys? 
Ans: Yes, the buzz cut generally looks amazing on men.
Q2. How Do You Cut A Man's Hair With A Buzz Cut?
Ans: The modern hair trimming gadgets allow you to cut men's hair with a buzz cut easily.
Q3. What Is The Best Length For A Buzz Cut?
Ans: Medium hair is the best length of a buzz cut.
Q4. How Do You Know If You'll Look Good With A Buzz Cut? 
Ans: In case you look fresh and glowy after getting a buzz cut, you can consider looking outstanding in it.
Final Words
When it comes to the buzz, everybody considers it to be the military buzz cut. However, things are not the same. As the army follows a formal protocol, the haircut is also very formal. You can easily carry the military haircut anywhere as it would not bother you much.
However, you need to find an excellent barber if you desire to add unique designs to your haircut. You can even try a DIY process to incorporate a buzz cut on your head. However, putting any sort of design can be a big problem. Moreover, you should keep in mind that all haircutting gadgets are of the premium
Read Also: